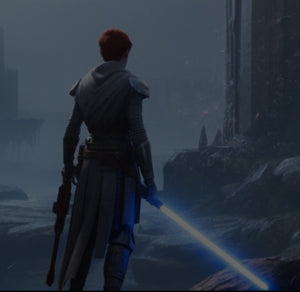 THE KESTIS
SABER COLLECTION
Sabers inspired from Jedi Survivor and Fallen Order.
"As long as we fight, hope survives."
Step into Cal Kestis's world with our premium lightsabers, inspired by the Jedi Survivor and Fallen Order game series.
THE JEDI SURVIVOR HERO SABER
Sale price - $334.50
Unleash your inner Jedi with one of our most game accurate replicas. Unleash your inner Jedi with one of our most game accurate replicas.Unleash your inner Jedi with one of our most game accurate replicas.
FALLEN ORDER SABERS
We offer three versions with different levels of designed wear and tear - weathered, undamaged and damaged. Choose your preference!
A SEAN SOLO EXCLUSIVE
Introducing the Crystal Fallen Saber - a saber you can only find here at Sean Solo Sabers
THE CRYSTAL FALLEN SABER
Introducing our first Sean Solo custom design with only 50 ever made!
This saber features a unique crystal reveal design and is one of the most game accurate models you can find.
FREE & FAST SHIPPING
Free shipping with expected delivery 2-3 weeks from purchase.
PAYMENT PLANS AVAILABLE
Spread out payments with interest free installments at checkout.
LIFETIME TECH SUPPORT
If you ever have any questions about your saber, we're always here to help.
Over 2,000 5 Star Reviews
★★★★★

Loved the game, and this saber does not disappoint! I nerded so hard when I opened the box and first ignited the blade.

Michael - Verified Buyer

Crystal Fallen Saber
★★★★★

The saber itself is great, the hilt is all metal and the blade is sturdy. Everything as described, the accessories and case it comes with make it feel super premium. Shipping was fast and reliable

Hans - Verified Buyer

Jedi Survivor Saber
★★★★★

Absolutely amazing. Shipping was way faster than expected and it's even more beautiful than I imagined!

Makayla - Verified Buyer

Fallen Order - Damaged Saber
★★★★★

My first custom saber and I couldn't be happier everything exceeded my expectations and Sean was very friendly and helpful with answering any questions I had.

Tristan - Verified Buyer

Fallen Order - Damaged Saber
★★★★★

Sean was extremely helpful. The fonts were great I love this saber will be buying a new one.

Cameron - Verified Buyer

Fallen Order - Undamaged Saber
FAQ'S
Some of our most frequently asked questions.
Typically, you can expect to receive your saber 2-3 weeks after time of payment, and depending on availability can take up to 4 weeks.
In short, Baselit is the basic sound option, XenoPixel V2 offers more sound fonts and advanced effects, while Proffieboard 2.2 provides the most comprehensive sound and lighting experience for your lightsaber replica.
Yes, blade length does matter, as it can affect both the aesthetics and functionality of your lightsaber replica. Choosing the appropriate blade length depends on your intended use and personal preferences.
Aesthetics: A longer blade may be more visually appealing, especially for taller individuals or those looking for an impressive display piece. On the other hand, a shorter blade might be more suitable for younger fans or those seeking a more compact appearance.
Functionality: If you plan to use your lightsaber replica for dueling, spinning, or other activities, the blade length plays a crucial role in ensuring proper balance and control. A longer blade provides more reach but may be more cumbersome, while a shorter blade allows for easier maneuverability but sacrifices reach.
Our lightsaber replicas offer two blade length options, 32" and 36", to accommodate different preferences and requirements. We recommend considering your intended use and personal preferences when selecting the optimal blade length for your lightsaber.
Yes! You can return the item for any reason within 7 days, no questions asked, because I'm committed to your satisfaction.
You must reach out within the 7 day window from the estimated delivery date to start the return process. If for some reason the delivery is delayed by shipper, any extra days are subtracted from the 7 days. You should receive your money back 14 days after the the item(s) is/are received back.
Customer is responsible for return shipping and restocking fee of $25, and the saber must be in its original condition to receive a refund (no damage due to dueling, or marks on the blade from the retention screw). You must ship the item(s) in 1 shipment (using 1 shipping label) back within 14 days of return initiation.
If you have any additional questions, please contact us and I would be happy to help you on your lightsaber journey!